What's in it for Malaysian investors?
ASEAN CIS Framework is an initiative to facilitate and streamline cross-border offerings of collective investment schemes in ASEAN to retail investors. The initial member jurisdictions in the framework are Singapore, Malaysia and Thailand. Under this scheme, asset management companies in one member jurisdiction can offer their domestically-domiciled funds in another member jurisdiction. These collective investment schemes will need to be "qualified", meeting the eligibility requirements and undergoing a streamlined approval process, before they can be marketed to retail investors across borders.
With the launch of this scheme, there will be further expansion of product offerings in the local market and investors will have greater access to regional schemes and a wider range of fund selections. Currently, most of the foreign-domiciled funds are being brought into Malaysia through the Lodge And Launch Framework (LOLA) initiated by Securities Commission Malaysia, mainly due to shorter lodgment timeframe. Under the framework, these funds will be classified as wholesale fund. This means that they will only be eligible to those who are qualified as "Qualified Investors" with most of the funds having high initial investment amount. As compared to the LOLA scheme, the ASEAN CIS Framework allows its member jurisdictions to promote its collective investment schemes as retail funds. Common investors will be able to have exposure to these foreign-domiciled funds at a relatively lower initial investment amount.
Likewise, under the LOLA framework, foreign-domiciled funds will be structured as feeder funds. Aside from the management fee charged by the target funds, the feeder funds will have additional management fees and other expenses (administration fee, trustee fee, etc.), which might translate to higher expense ratio. As compared to funds under the LOLA framework, ASEAN CIS Passport funds will be promoted as plain vanilla unit trust funds to retail investors. The funds under ASEAN CIS Framework do not go through the feeder-fund structure, and thus, there will be no extra management fee charges.
In the section below, we will be introducing our first ASEAN CIS passport fund on our platform – Nikko AM Singapore Dividend Equity Fund.
Nikko AM Singapore Dividend Equity Fund
The
Nikko AM Singapore Dividend Equity Fund
is a dividend-focused Singapore equity fund that is incepted on 12 July 1999. The fund aims to achieve medium to long term capital appreciation for the investors.
Investment Strategy
The fund holds the belief that having exposure to consistently high or rising dividend-paying companies could offer a lower risk option to garner consistent returns from the Singapore equity market over the medium term. The fund typically holds 30-40 stocks, offering investors with a high-conviction dividend-focused investment approach to the Singapore stock market. In the process of selecting stocks, the investment team will focus on pinpointing companies that have resilient business model, reliable management and repeatable dividend payouts. The fund's stock selection will be biased towards the larger capitalized Singapore-listed companies, and the fund will have the option to invest up to 30% of its portfolio in equities listed out of Singapore for sector diversification and portfolio enhancement purposes.
While the fund is predominantly focused on high and sustainable dividend yielding stocks, the fund may invest up to 30% of its monies in "dividend growers" – quality stocks with strong business growth and have the potential to distribute dividends in the future. As a dividend-focused fund, the fund intends to make monthly distributions to unit holders, with the potential payouts to be approximately 5 to 7% per annum.
Opportunities in Singapore – From a Dividend Return Perspective
Singapore equity market remains an alluring proposition for investors due to its attractive dividend yields. As of 31 March 2016, the estimated dividend yields offered by Singapore equities, as represented by the STI Index, stood at 4.3%, one of the highest among its Asian peers (see Figure 1). Looking at the past track record, Singapore equity market has delivered a decent cumulative total return of 27.6 % over the past 5 years. The reinvested dividends constituted a significant portion of the overall performance, making up 18.0% of the total returns of Singapore equities over the said period (see Figure 2).
Figure 1: Estimated dividend yields (%) for Asian countries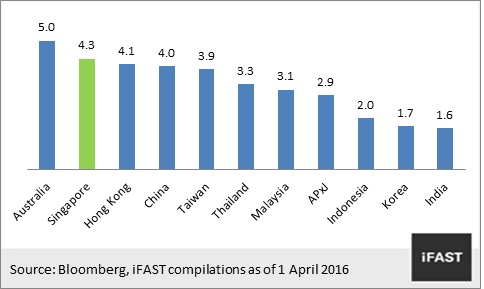 Figure 2: STI Index: total return vs. price return (5-year)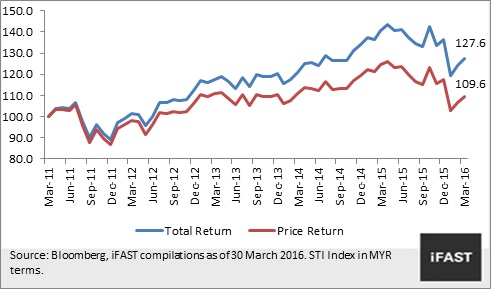 Cheap valuations
Since its peak in April 2015, the STI Index has plunged heftily, making its valuation metric more attractive. Although earnings downgrades for Singaporean corporate occurred concurrently, we believe that the drawdown in the equity market, compared to the companies' downward earnings revisions, is somewhat unreasonable. From its peak to through (mid-April 2015 to 21 January 2016), the market has skidded by -28.5% while the earnings downgrades were down by -13.2% for 2016's earnings.
As of 31 March 2016, the STI Index is trading at a PE ratio of 12.9X, way below our fair PE estimate of 16.0X (see Figure 3). This represents an expected annualized return of 16.8% for the following three years (based-on 2018 earnings). The investment case for Singapore remains intact for investors as they could still expect decent dividend yields from this market, while waiting to harness the potential gains from capital appreciation as the market's valuation metric normalizes going forward.
Figure 3: Attractive valuation metric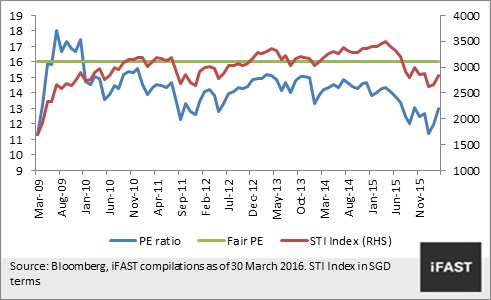 Conclusion:
With the decent estimated dividend yields, along with the appealing valuation metric for Singapore equities, investors might consider having some exposure to this 4.0 stars (Very Attractive) equity market. Investors that are seeking for a fund that adopts a high-conviction approach to dividend investing in the Singapore equity market could consider the
Nikko AM Singapore Dividend Equity Fund
, which is focused on generating sufficient cash flows to fund dividend payouts to unit-holders. Aside from the MYR-class, the fund is also available in USD-class and SGD-class.
The Research Team is part of iFAST Capital Sdn Bhd
This article is not to be construed as an offer or solicitation for the subscription, purchase or sale of any fund. No investment decision should be taken without first viewing a fund's prospectus, product highlight sheet (PHS), and if necessary, consulting with financial or other professional advisers. Any advice herein is made on a general basis and does not take into account the specific investment objectives of the specific person or group of persons. Amongst others, investors should consider the fees and charges involved. The relevant prospectuses have been registered and lodged with the Securities Commission. Past performance and any forecast is not necessarily indicative of the future or likely performance of the fund. The value of units and the income from them may fall as well as rise. Where a unit split/distribution is declared, investors are advised that following the issue of additional units/distribution, the NAV per unit will be reduced from pre-unit split NAV/cum-distribution NAV to post-unit split NAV/ex-distribution NAV. Where a unit split is declared, investors should be highlighted of the fact that the value of their investment will remain unchanged after the distribution of the additional units. All applications for unit trusts must be made on the application form accompanying the prospectus. The prospectuses and PHS can be obtained from Fundsupermart.com. Opinions expressed herein are subject to change without notice. Please read our
disclaimer
in the website.